Teaching, Learning, and Letting Go
Welcome to the September edition of the monthly newsletter for my business, sparksofhealing.ca. This is a summary of what is happening locally and any other shenanigans I am getting up to.
What is new and interesting?
I took some time off in August to hang out with friends, commune with nature, and do some self-care. The first week of the month, I went to hang out with a group of ladies I have known since High School; we call ourselves the Forever Friends. It was lovely to catch up on what is happening in everyone's lives, hear about grandkids, weddings, retirements, and life in general. We shared laughs and enjoyed the beauty and serenity of cabin life for a couple of nights. Our hostess not only provided lodging for us, she also presented us with lovely tea mugs celebrating 30 years of friendship.
I had a couple of days to pack and prepare for yet another trip, this one with my husband Jaret to Cypress Hill Interprovincial Park. We got very brave this year and decided to take up tenting to make it easier and more affordable to explore destinations closer to home. I had previously grown from tenting, to tent trailer then into a 29 foot camper trailer when the kids were small. When Jaret and I got together, we said we never wanted to get married again and we didn't like camping. Well… we have been married for four years now and bought a tent along with all the accessories this summer. We encountered rain, slugs, and noisy neighbours but still managed to have a great trip.
We lashed the kayak onto the roof, piled up the SUV and had some lovely adventures. If you have never been to Cypress Hills you are missing something divine; this place looks like Mother Nature dug up a little patch of Banff and plunked it down on the Saskatchewan/Alberta border. There are plenty of places to hike, horse rides, zip lining, and fishing opportunities. You can even rent peddle boats at Loch Leven.
Kayaking on Reeser Lake
It was a lovely get away, time to be out on the water in the kayak, an adventure cross country on the Gap Trail between the Saskatchewan and Alberta sides of the park, where the infamous Fort Walsh post is located. There is lots of history here and things to learn. The best part is HILLS! No, Saskatchewan is not entirely flat!
The valley view from Bald Butte in Cypress Hills
For many years now I have wanted to experience a Cranial Sacral Massage but could not find someone who did them nearby. There was a practitioner who moved here from BC who I went to see, only to find that she was doing them by distance, so it was not the lovely head massage and spinal manipulation I was expecting.
In August during a hypnosis consultation call, I discovered a lady who was trained by had not been practicing for quite some time. We had a lovely conversation and she booked in to experience a Soul Alignment with me. Upon meeting her in person, we found that we had many things in common including the fact that we took our Reiki 1st and 2nd Degree training from the same Reiki Master years ago; it was during this get to know one another that she revealed she was trained in Cranial Sacral massage, however had not been practicing for several years. We quieted down for her Soul Alignment session where she experienced my energy and sound along with all the other wonderful treats in the session; at the same time, I was experiencing HER energy. When it came time for her to pay me, I asked if she would be interested in doing a trade instead; would she be willing to come back and give me the elusive Cranial Sacral treatment? Reiterating that she had not facilitated one for quite some time, she accepted, and we booked the time.
Oh, My Goddess! What an amazing experience that was! It was like Body Talk in that the practitioner holds two body points at the same time but different in that the focus is on the sacral spinal fluid. Now, I am no expert so that is about as far as I am going to try to explain it, beyond saying that the pressure points and manipulation of my skull was amazing. I want to do that again one day!
You may have noticed that I am not mentioning her name. That is out of respect for her until such time that she decides to offer this service again. When she does, I will shout accolades for her from the rooftops! You can be sure of that.
If you follow me on Facebook, you will already know I have been book obsessed recently.
This book has captivated my attention all month. It is a short book, but a long read. I am usually one to stay up late to finish reading something that I am engrossed in, not this book. I needed to take it in small parts to absorb what was being conveyed. My response ranged from validation of the important life lessons and progress to peace to clearly uncovering where I still had work to do. There are questions throughout the book to journal, if one chooses, I did for a few of them. This book is all about how to love in the purest sense in all aspects of life.
I have also been doing some preparation for something new and exciting, but I am not allowed to share that here until it is all official later this month. 😉 You will have to stick around to see what I am getting up to next.
As I write this, the full moon energy is still alive and kicking. This moon is a wonderful time to let go of things that no longer serve you and soak up new creative vibes!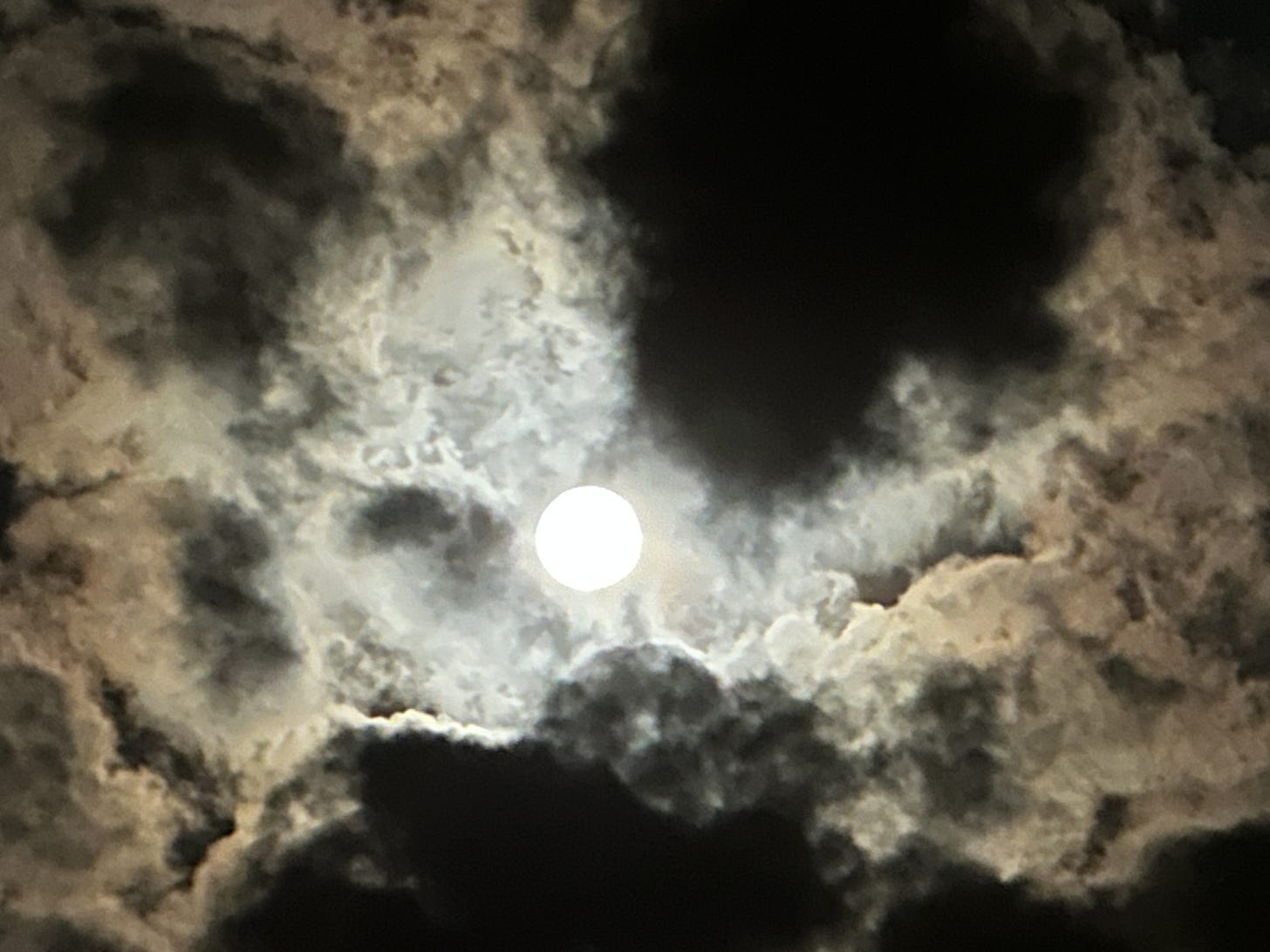 What is happening live and locally at Sparks of Healing?
Weyburn Natural Health & Healing Expo:
Friday, September 22nd from noon to 6pm and Saturday, September 23rd from 10am to 5pm
It is nearly time to hit the road for the Weyburn Natural Health and Healing Expo. I honestly cannot recall how many years I have been a participant, maybe four? I am not sure. This year it will run for two days. I will have a table there to answer questions about hypnosis, including Utopia Interlife Regression Training courses, Reiki and Reiki training, Soul Alignment, my books and more! I will be presenting a talk Being Love. <3
The Power of An Unstoppable Woman Conference:
Dr. Rose Backman is returning this fantastic conference to Regina on Sunday, October 1, 2023 from 10am – 4pm at The Atlas Hotel. There are numerous speakers, including yours truly and vendor tables with everything from books to jewelry, to free mini treatments of a Neuro Fascial Reset – I am very curious to see what that is all about! If you are interested and available, you can buy tickets here. Be sure to use the Promo Code "sparks" to get $10 off and show that you heard about it from me!
Classes:
Utopia Interlife Regression Training:
Are you curious about Past Life Regression? Have you ever had a conversation with your soul? Interested in peeking into the future and having a little heart to heart with your older, wiser self? Checking out another adventure your soul may take here or somewhere completely different?
If yes to any of those questions, you might like to consider taking this course. In the fall I will offer a four-day course to take all these journeys as both the tour guide facilitating the experience, and the client. At the end of the four days, you will be able to take clients or simply friends into the realm of the Interlife.
Who is this for?
Anyone who wants to learn more about past life, Interlife, and future hypnosis, be it as a practitioner or simply an investment in yourself.
Not sure if it is for you and want to know more?
Book a 30-minute free consultation with me to ask any questions you may have.
When are you offering this?
The dates for this offer have not been set. As someone who works for herself, I am open to teaching during the week, over an extended weekend or two weekends split to accommodate schedules. A minimum of two students would be required and the course can be in person or online.
One last thing! I engaged our local printshop Western Litho Printers to create a new banner for expos. I really love it and the connection to Pele which I promise to write about next week. Let me know what you think of it and what feelings or thoughts it suggests for you! Speaking of writing, I will be reducing my publication schedule to one blog per week on Thursdays and of course this monthly newsletter. I don't want to be writing because I MUST write, I want to be sharing things I think have value for you to read! <3